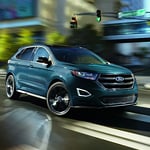 The Ford Edge offers increased performance with its latest release. Drivers are praising the move to include a turbocharged engine in the base model, leading to incredible horsepower that outshines the other guys in the same SUV category. The new Edge comes with a 2.0-liter turbocharged four-cylinder engine that gets 250 horsepower.
As Seneca drivers, you know that performance is also about handling roads and quick turns. The Edge is a dream to drive, smoothly transitioning thanks to the eight-speed automatic transmission and crisp handling. The Edge ST is a premium version of the standard model, offering more horsepower with a 2.7-liter V6 engine. You'll get 335 horsepower with the ST in comparison to the base.
Taking a test drive at Griffin Phillis Ford LLC shows you exactly why drivers like the Ford Edge so much. It's spacious, easy to drive, and safe. It comes with a variety of driver assistance features, as well as Ford's MyKey, which lets you set limits on speed and audio for secondary drivers.