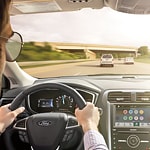 The new edition of the Ford Fusion comes ready for action with all of the power and capability that you would expect to find in a Ford-branded product. Our team is pleased to offer this popular mid-size sedan here at our showroom, and we think you'll agree that the Fusion is an excellent vehicle for tackling the streets of Seneca, PA and beyond.
The Fusion delivers a wealth of performance for a low starting price of slightly more than $23,000. The base model is equipped with a six-speed transmission and a 2.5-liter engine that offers gas mileage ratings of more than 30 miles per gallon on the open road.
The Ford Fusion's generous capabilities are enhanced by its high-end standard and available safety features that include blind-spot monitoring, lane-keeping assistance, advanced cruise control, and onboard navigation.