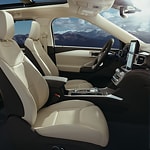 Drivers love the Ford Explorer because it's roomy, responsive, efficient, and easy on the eyes. This popular three-row SUV has way more to offer than good looks and great handling. Its performance features set new standards in its class. The following two features are great examples.
The Explorer benefits from Ford's legendary EcoBoost engine. Its ingenious technology pairs turbocharging and direct fuel injection. Combined with the Explorer's powertrain, the results are 350 to 400 horsepower and up to 415 lb-ft of torque. Such high horsepower and torque let you tow a bunch safely through Seneca, PA, and in off-road conditions.
The Explorer utilizes its braking systems and powertrain for safe, smart handling in a variety of driving scenarios. This feature, called Intelligent 4WD, delivers traction optimized for real-world driving conditions, letting you tow trailers and transport up to seven passengers safely through all weather and on all roads.
Visit us here at Griffin Phillis Ford today for a Ford Explorer test drive. See you soon.