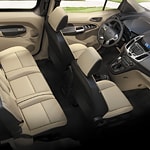 The safety of your car is one of the things that you must always consider when thinking of buying one. A Ford Transit Connect is one of the best vehicles that can protect you during a crash. The NHTSA has approved it as one of the safest models with the best safety ratings in the market. The features that make it safer in the market include:

Anti-Lock Brakes
The anti-lock brakes shall sense when the car is under heavy braking. The sensor shall help to stop the car tire stops rotating while under heavy braking. It shall reduce the braking pressure when the car is under heavy braking.

Stability Control
The stability control system will automatically sense when the car's handling limits have been exceeded. The process shall reduce engine power and apply select brakes to prevent the car driver from losing control. These safety features have saved the lives of many people across the country.