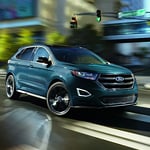 The Ford Edge is a redefined crossover SUV from Ford that has changed the dynamics of luxury SUVs. This off-road beast comes with high-tech performance features that makes it unique in all ways. The Edge is powered by a 2.0-Liter EcoBoost twin-scroll engine on its base trim, while the more powerful ST trim features a 2.7-Liter potent V6 EcoBoost engine.
The Edge combines the powerful engine with an eight-speed automatic transmission for smooth handling and convenience. The transmission comes packed with an active warm-up system for agility and quick shifting. This SUV offers an engaging drive, thanks to the paddles mounted on the steering wheel to help you change the gears without ever lifting your hands from the wheel. This revolutionary technology from Ford makes it a fun-to-drive SUV.
For daring drivers who love power and speed, the 335-hp engine in the ST trim is a thrilling option. Coupled with the standard AWD, this high trim SUV can do 60mph in 6.1 seconds without compromising on the fuel economy aspect of the Edge.