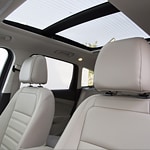 At Griffin Phillis Ford in Seneca, PA, we have a team ready to show off all of the amenities that come with the Ford Escape. Consider this vehicle if you need a vehicle that can keep up with your busy schedule. Whether it is apps or conveniences, the Escape has excellent amenities to make sure your day is a little less stressful.
Ford+Alexa is a great way to multitask while driving your Ford Escape. Use the Alexa app to shop with your Amazon account, check on your smart devices at home, and check your calendars. You can also use it for voice navigation.
Some of the conveniences that come with the Ford Escape are 4G LTE Wi-Fi, which is excellent for your passengers. They can stay busy as you drive! There is also a wireless charging area, so you don't have to worry about making sure your smartphone is charged before leaving your house.