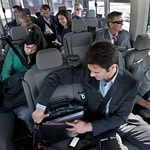 Depending on the configuration you choose, your new Ford Transit Passenger Wagon can transport as many as 15 passengers. The Transit offers logistical solutions for business owners in and around Seneca, and it comes fully equipped with all the newest tech features.
Griffin Phillis Ford LLC believes that we could all use a co-pilot to make our lives a little less hectic. The Ford Co-Pilot360 uses driver-assist technologies to prevent accidents and take the stress out of driving. Lane-Keeping Assist, Pre-Collison Assist, Automatic Emergency Braking, Forward Collison Alerts and Adaptive Cruise Control are just a few of the tech features the Ford Transit uses to make driving in Seneca safer than ever before.
Is staying connected important to you and your business? FordPass Connect includes a 4G hotspot with connectivity for 10 different devices.